GLADIUM MaXXI MULTI MATERIAL CUTTER
GLADIUM MaXXI  MULTI MATERIAL CUTTER 
CUTS 12 mm./ 0,47 inch. THICK 
5 YEARS GUARANTEE 
20 YEARS GUARANTEE ON BEARINGS
Our multi material cutters are multi function machines: they cut panels, finish materials, create carton boxes and more. Gladium plexiglass cutter: 10 mm. thick in a stroke only, world record performance in the category!
On demand project: buy only the option you need, when you need it! All the options we'll add in future to the concept will fit onto existing Black Carbon Edition Gladium.
Gielle racing design: the perfect Italian design where the aesthetic research is functional to the machines' performances.
Gladium Open Concept is highly adaptive to market tendences. Gladium are the only plexiglass cutter in their category able to cut 10 mm. thick in a stroke only.
If you buy a traditional machine you can't add any new feature to it. So as soon as new materials come into the market as best sellers you need to buy a new machine. Nobody knows the future but Gladium does! Our multi material cutters are cutting thousands of sheets everyday. As soon as a new tendence or a new material comes to the market Gladium modular concept can add an option to cut it.
Gladium is an open project: we produce new options every year to cut thicker and faster or to offer new finishing. All the accessories work on the same working desk, so it is possible upgrading any Gladium Black Carbon Edition plexiglass cutter by adding in a second moment the Rebel motor saw trolley. Or you can order the V-groove kit for yor standard trolley.
Two full length special rubber gripping strips ensure all work is clamped when cutting and protect the material being cut.

Straightness top level accuracy: the machines comply with EN 12020-2.
Cutting blades fast change
Blade depth display for multiple cuts to get perfect finishing
Gielle multi material cutters are equipped with top quality Made in England blades. Gielle recommends to use genuine consumables.
MaXXI is the XXI century machine! It doesn't matter if you are a small company or shop: Gladium multi material cutters make you smarter and able to win against bigger professionals! Immediate 400% grow in cutting capacity compared to a traditional machine.
Invest in a multi material cutter equipped with the most updated technology and win the competition: no more efforts and  fast cuts mean high productivity. For example it is possible to set three 3 mm. PVC sheets and cut them in a stroke only. Think to the chance to use a powerful plexiglass cutter to cut 10 mm thick sheets in a stroke only. Many companies saved a worker by buying a Gladium!
You can change the way you work to the next level!
World record multi material cutter
Gladium MaXXI cuts more than any other traditional multi material cutter thanks to the Rebel motor saw option. It is possible to use the multi material cutter in manual or semi-automatic mode to get the best result on each different material. If you need to deliver in a short time you can use Rebel's full power  and cut in a-stroke-only a 10 mm. (0,39 inch) Forex sheet.
That's impossible for all the competitors' machines in the same category.
Horizontal base squaring regulators (to manage not streight sheets)
• Full length ultra grip clamping system to lock sheets in position
• Precise horizontal & vertical scales (Imperial & Metric).
• Two serial-production stops on the horizontal bar.
• 3 Standard (GLASS, PLEXIGLASS, GENERAL) turn & lock ready mounted tools to cut and score many different materials.
• A fourth V-groove optional can be added to create a 4 turn & lock tools set.
• All traditional blades and tools cut on the same line: a measurement only needed if you use Gladium as a Forex or plexiglass cutter.
• Automatic blade disengagement at the end of cut
• Fast tool-change thanks the turn-and-lock system
• Fast trolley-change system
• 4 cutting heads manual trolley with auto-blade-disengagement at the end of cut. The Rebel trolley is counterbalanced in order to get smooth operations.
• Telescopic up/down adjustable legs to get minimum effort in working
Cutting the electric mode
Gladium machines can cut by using blades, as traditional multi material cutters. Or they can GO ELECTRIC! In less than two minutes operator can change the trolley and use the electric saw. Uncomparable power in cutting.
The trolley is linked to a counterweight in order to be light during cutting operations.
The versatile saw can cut, square or mill, open windows in the material, cut passepartout and more.
Gladium consumables are made in Italy: use only genuine consumables for your safety.
Working desk
The working desk by Gielle Design: yellow crosses, red goniometer, black sizes from 10 to 40 cm. The metric line is inspired to racing cars and their digital italic numbers on dashboard. Movable parts are finished in anodhized red.
The right panel shows safety prescriptions and the addresses you can browse to get info on machines, spares, videos.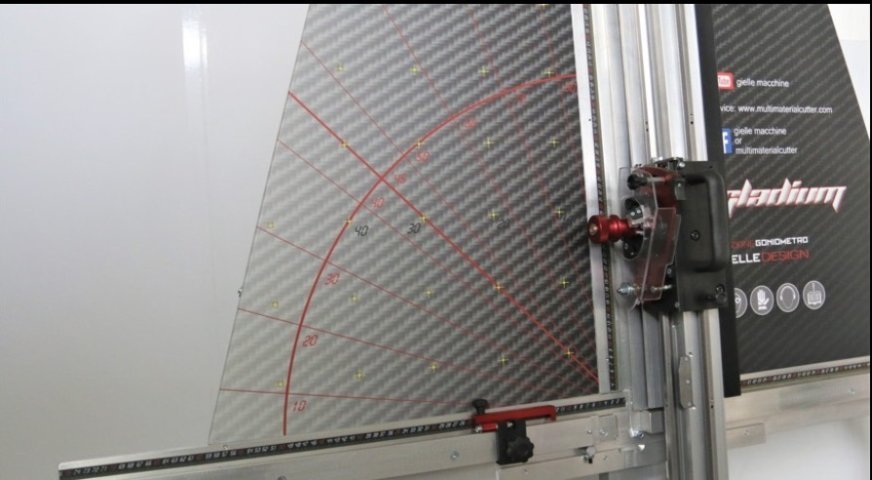 Left horizontal stop
It makes serial jobs simpler! The operator has to set only the size of the first piece to cut. The other ones will be cut on size simply by placing the sheets against the stop.
The photo shows the crosses, the metric line and the red goniometer also.
The horizontal channel where the sheets slide is coated by a steel stripe screwed to the aluminium basis. It is needed to avoid that in years of day by day work a simple aluminuim basis can be worn by material sheets, particularly glass and dibond. That's why we offer a long time guarantee on Gladium machines.
Metric/ imperial measures
Our metric/ imperial lines are made like the racing car's tachometers. During the last years we improved the background brightness and the color combination to get a beautiful and useful look.